It seems there's a monkey working at Tech Support at my host server. Had a problem with one web site that a simple back-up restore should have fixed. Techie told me to wait an hour or so and everything would be fine.
NOT!!!! Somehow, not only was the original site restored to 3 days ago, but so were several others. PLUS, a site not even related to the first one was "fixed" and pointing to the unrelated first and completely irrelevant site. Then the new monkey tried to tell me that I did that on the 15th!!! I am not amused. Nor very happy at the moment. The site was functioning properly this morning. I check everyday when I check email! As if!
Anyway, I got them to fix as much as I could after speaking with a supervisor. The posts from the 22nd and 23rd have magically disappeared and there is nothing to be found for them. So I can recreate the posts themselves, but sadly, all the wonderful comments I received for them are gone.
Hopefully, my clients' sites didn't suffer too much lost traffic and sales due to this snafu. I did not get most of my to-do list done because of the time spent trying to repair all the damage. Looks like I will be working tomorrow instead of taking a me day.
Sept 22, 2010 post:
Digital painting in MangaStudio EX – Snow White
September 22nd, 2010 (11:14 am)
Tags: art is work, art nouveau, artist at play, copyright 2010 wendy martin, manga studio ex, snow white
Still fiddling with size ratio of the two characters. Also redrew the eyes for Snow White again.
Added color to clothing and hair.
I am discovering the move/adjust feature to be rather clunky to use. I'd rather just be able to nudge things without being taken to another screen. Also, it would be great if I could turn off the handles of this tool so I could see the placement in relation to where I am moving it. A minor down side for the program that I feel could be handled way better.
I'll be working on new masks all afternoon and hopefully, will be able to share photos of them in the next few days.
———
Sept 23, 2010 Post:
Evil Queen gets dressed – MangaStudio EX
September 23rd, 2010 (05:00 pm)
Tags: art is work, children's books, copyright 2010 wendy martin, illustration, manga studio ex, writing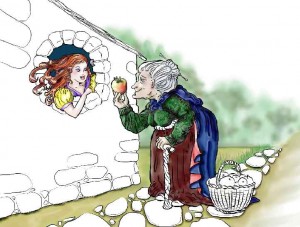 I've been fairly busy today. Got a lot accomplished on other projects, but not as much on this illustration as I would have liked. I think I will be finished sometime next week if I keep going at the same rate.I have a meeting this evening, dinner needs to be prepared and I would like to take a break to look over my emails.So I have to stop for today.
I may even *gasp* work on the outline Verla suggested would help me get unstuck in my WIP after dinner before the chat.
I am fairly certain I will not be able to finish my draft in the month of September, seeing as the goal was to add 25,000 words to the WIP and I've managed about 3,000. Still, with travel and being sick and working on other projects to get caught up, 3k is better than none. Maybe I can get another 10k by the 30th. One can always hope.
Related posts: